Chilliwack Heritage Park
is a 65-acre park that boasts a 150,000 square foot building. It can accommodate a number of events from trade shows and conventions to agriculture and equestrian events and more!
There is a seven-acre field for outdoor concerts and festivals as well as camping. A 5/8 mile race track and a rodeo arena play host to chuckwagon and chariot racing and rodeos.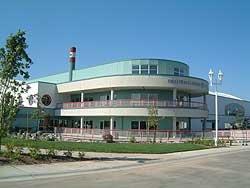 The Chilliwack Landing Leisure Centre has something for everyone. Our first-class wave pool featuring a water slide, lazy river and tot pool is the perfect place to enjoy family fun. There is also a 25 meter competition pool with 8 lanes with an adjustable floor height and 1 meter diving board. The pool area also includes 2 large hot tubs, a steam room and sauna.
The second floor of the facility boasts an Aerobics studio with sprung hardwood floor as well as the very latest in machine and free-weight equipment in the Fitness Weight Room.
For those who love the outdoors, the Chilliwack Landing Leisure Centre offers a spray-park, skateboard park, sand volleyball court, sports court for basketball and street hockey, and a recreation area.
The Centre includes an art gallery, a 500+ seat performance theatre, a 150 seat recital hall/rehearsal space/dance studio/meeting space, music instruction rooms, arts and crafts studios and related amenities.
Prospera Centre is the perfect venue for any event. Located in our 100,000-square-foot facility are two NHL sized rinks, a multi-purpose meeting room, professional locker room, full food and beverage service, the Rinkside Tap and Grill and a full service pro shop. We have seating for almost 5,000 for sporting events and the building can accommodate over 6,000 people for concerts.
The Prospera Centre Chilliwack can host any type of show or event no matter how big or small. We have hosted concerts such as Jann Arden, Leahy, Adam Gregory, George Jones and Alice Cooper, as well as the Celebration on Ice figure skating show which featured Elvis Stojko, Kurt Browning and Ekaterina Gordeeva. We also hosted the Continental Cup and Michael Flatley's Lord of the Dance. Tournaments, concerts, trade shows, conventions - you name it, we can host it! Prospera Centre has become the place to be in the Summer months with conventions and concerts on the primary sheet and year round ice on the secondary.
Map of Facilities and Parks in Chilliwack and Sardis